*
Disclaimer: This post contains affiliate links. This means I may earn a commission should you chose to sign up for a program or make a purchase using my link. All opinions are 100% my own. Thank you for supporting my blog!
There are many blogging platforms to choose from. But with so many options it can be hard picking the right one for you. What if you pick one and don't like it? What if you have to switch to another platform later? I went through this myself when I started my blog. I went through a few platforms before I finally decided on Blogger.
I did tons of research as well on all the popular blogging platforms. To save you the time, energy, and confusion I went through here is a list of the popular blogging platforms. That way you can decide for yourself which blogging platform is the best for your blog.
WordPress.org
This has to be the most popular blogging platform around. The majority of bloggers in the community recommend it. It is the most popular suggestion to anyone who is about to start a blog. I am not suggesting it to you just because it's popular. Nor do I recommend it just because it's popular.
I think I am one of the few bloggers who actually does not recommend WordPress.org for beginners. It irritates me when people recommend it to beginners. Here is why:
Self-hosted
You are responsible for your own updates
You have to choose a web host
You have to pay for hosting
You have to install it
You are responsible for your own backups
This is how WordPress.org works. You go to the site and download the software. Then you have to pick a hosting company, pay for a monthly plan, then install the software yourself on your web host. The WordPress software itself is free.

The hosting plans are not. There are no subdomains available from WordPress.org. You have to buy your own domain.
If you are not tech savvy and don't want to do it yourself WordPress.org isn't for you. You have to do everything yourself.
TechRadar
even states that "WordPress isn't a drag and drop affair, you'll have to familiarize yourself with its system of menus".
Which means you can't easily change things by drag and drop. One reason many people recommend WordPress.org is for the plugins. Some of them are free. Some are not. The plugins need constant updating.
Unless you are familiar with HTML and have web developer experience I don't recommend WordPress.org.
Ministry Website Designs
state that "it is easy to install WordPress, but extremely difficult to customize it on your own without the help of a developer".
If you are experienced with HTML, web developing, and don't mind paying for hosting then WordPress.org is a good option.
WordPress.com
WordPress.com is different than WordPress.org. As I stated before you have to download WordPress.org. Then install it to a web server which you must pay for. With WordPress.com that's not the case. You simply go to the site, make an account, then they walk you through the rest. It's a lot easier.
If you are just starting out, don't have tons of HTML experience, and want something easier WordPress.com is a good option. If you don't have money to pay for a domain you can get a subdomain for free. You don't have to pay for hosting either. You don't have to worry about backups or updates.
The free account gives you 3GB of space. If you want more space the personal plan is just $48 per year. That's a really good deal. Some blog sites charge a monthly fee. With the personal plan, you get your own domain, live chat, and email support, free themes, 6GB of storage, WordPress.com ads removed, and you get JetPack essentials. Jetpack is a plugin that includes Seo, and Spam Protection.
WordPress.com is a good option if you want something easier. If you don't have the money for a domain, or hosting I recommend WordPress.com. With WordPress.com you don't have to know any HTML.
Wix
Wix is similar to WordPress.com. They have a free plan available, you can get a subdomain, and they have paid plans. You don't have to know any HTML to get started. It's a very user-friendly blogging platform. It's perfect for beginner bloggers.
With the free plan, you get a subdomain and 500mb of storage. If you want to connect your own domain it's $5 per month. But
Wix
will still display their ads on your blog with the $5/month plan. Wix has both annual plans and monthly plans.
You don't have to find a separate hosting company. They host for you. The Combo plan is just $10 a month and it includes a domain name, 3GB of space, and 2GB of bandwidth.
Website Builder Expert
has stated that Wix is the best website builder available today. Here are just some of the features Wix has:
Multiple ways to customize your post
Blog posts can be automatically posted to Facebook
Customer support on the free plan
Flexibility with scheduling posts
Easy to build a blog with Wix's artificial intelligence design
Add your Instagram feed
Blogger
Blogger is the platform I use for my blog. The reason I choose Blogger is that it's user-friendly, they have free templates that you can customize, it's owned by Google, easy access to Google Analytics without having to install it, free hosting, and free domain connect.
Blogger is 100% free! You get as much storage and bandwidth as you want for free. You can get a subdomain for free. All the Blogger templates are mobile friendly. It's easy to integrate other Google products and apps such as Google Drive, Google Tag Manager, and others.
If you want to use a non-Blogger template you have to find one online. Then you have to install it yourself. But most website design template sites tell you how to do it. Some even integrate with Blogger's design customization menu. Blogger isn't as confusing as
WordPress
. It's more straight-forward.
From the dashboard, you can monitor comments and stats. Blogger even provides a world map of where your readers are coming from. Blogger automatically filters out
spam comments
. But Blogger does have its drawbacks. It doesn't have as many plugins as WordPress.
Setting up multiple pages is more confusing. It's not a drag-and-drop website. If there are features you want that aren't readily available you have to find the HTML code for it and add it yourself. But you can start your email list on your blog for free. You can preview your posts, and customize your layouts.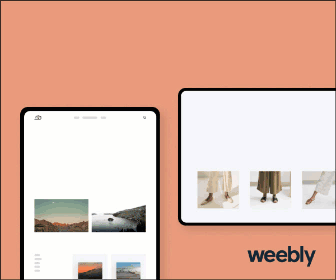 Weebly
Now
Weebly
is a drag-and-drop website. What that means is you use your mouse to drag-and-drop everything around. You don't have to know any code to add anything. Weebly will show you all the design elements they have. You pick the ones you want on your blog. Then take your mouse and place them.
The free account gives you 500MB of storage, SSL security, and a subdomain. You also get SEO, community forum, chat and email support for free. But Weebly ads will be displayed on your blog. Weebly doesn't include analytics. You can install Google Analytics. If you want more storage and a domain you have to upgrade your plan. The next plan is the $8/per month plan. Webbly does have:
Free Blog Templates
Sidebar customization
RSS and social sharing features built-in
Third party integration
Add your own store
Free privacy policy generator
If you want to sign up for Weebly click here!
Conclusion
Each blog platform has their pros and cons. It just comes down to what you want in a blog. What features do you need? Do you want a free account?

Do you want an easy site builder? Once you know what you want it's easy to pick a blogging platform. If you are still unsure try a few using their free plans. That way you get a feel for how they work.
I hope my post helped you. What blogging platform do you like most? What advice do you have for beginner bloggers? Let us know in the comments below!
If you like my post please share it on social media. Until next time take care!